It's been several months since I've done a proper update blog, so I wanted to just sit down, listen to my Haddaway, and give you all an idea of everything going on now. Yes… I'm listening to 80's music. Don't judge.
BRAND NEW WEBSITE! Yes, if you haven't been over to the website in a while, go check it out. I've changed the domain name back to www.monstrumchronicles.com and have simplified the layout. It looks cleaner, it's easier to find information, and it looks much more professional. I'm pretty satisfied with it. I'd still like to get a character page up for some of the main characters in The Monstrum Chronicles but that may take a little while.
As far as writing goes, I've been at work on getting my latest book, "Memento Mori: Book 3 of the Monstrum Chronicles" into paperback form. I'm currently in the process of applying a further round of edits and layout changes to the manuscript. I'm hoping to have books available for purchase by the end of April. The book is currently available for Amazon Kindle and can be found here. If you have already read "Memento Mori", I'd love you to the moon and back if you gave it a review on either Amazon or Goodreads. Here's a virtual smooch for those of you who have already done this. MWAH!
I'm currently at work on two different writing projects. One of them is a companion short story to "Memento Mori" called "Tenacious". In it, we follow the adventures of the mysterious taxi-driver Angus, learn why he's interested in helping Vera, and why he has his own agenda to get into the enigmatic Dawson House. I worked on this a fair bit today and enjoyed it very much. I got to create a new race of duplicitous nightmarish monstrum called the Grynde. They'll be a force to be reckoned with and will most certainly raise trouble for Angus (as well as our other favorite protagonists later in the series). Here's a teaser I posted today! Scroll down to see it!
I got the idea to write this short story because of…(ready?)…Resident Evil 4.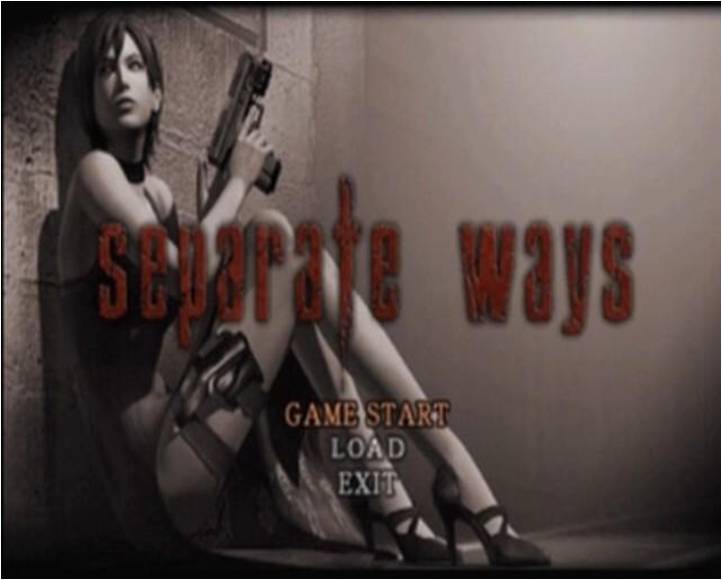 In the game, there is a character, Ada Wong, who occasionally shows up to save the protagonist, Leon Kennedy, in the nick of time. She does this a handful of times over the course of the game, and all the while we get a vague idea of what her purpose is but not much more than that. The creators made a DLC for the game called "Separate Ways", which has the player acting out Ada's story, basically everything that goes on while Leon is trying to find the president's daughter. It was really a cool idea and I thought, why not use it for a book? But… I digress. Moving on.
The other story in the works is currently untitled although it was earlier known as "Cold Walls". It's a thriller with dark fantasy and paranormal elements that I've been working on for about a year and a half. I'm currently 50,000 words in and loving how it's going. This probably won't be released until late next year (if not later) so I'm not rushing and I think that's best. I'd prefer to take my time with this one…
Now, what's up with the BLOG?
First up: Cooking Adventures. I've been seriously having too much fun with the Literary Cooking Adventures. We're up to 6 videos since the year started…averaging at about 2 a month. That's more than I was thinking I'd be able to do. The last Cooking Adventure was in celebration of Agatha Christie and I made a delectable triple berry crisp. If you haven't already subscribed to my Youtube channel, please hop on over and do so. Then you'll receive an email notification when I've released a new video. Hooray! Coming up on the next adventure? We're celebrating Frank Miller's Sin City graphic novels by making some glorious grilled fish tacos. Stay tuned for that one on April 9th.
Next: Inspiration Through Music. I'm still getting back into the swing of doing these but I'm thinking it's going to be harder to do one each week. So, I'm going to try for bi-weekly posts with this one. I'll alternate with Cooking Adventures so that content is still being uploaded on a regular basis.
Horror-FAIL and Horror-FAVE Fridays have been fairly popular. Those are staying as weekly blogs. I've recently begun going through my old (and horrific) writing and have been posting selections of it for your entertainment.
Shout-out Sunday hasn't exactly happened yet. My plan is to highlight the work of someone I admire, believe has done unique or intriguing work or who I believe deserves some attention due to the content they release. Whether that's books, music, videos, or other things, it's meant to boost awareness. But I'm planning on starting it up after Easter. The first one will be April 12th.
Oh and how could we forget upcoming events? I have these listed on my website! One for the wonderful PortCon, and the second for the lovely New England Authors Expo. Hop over to the website and take a peek.
Well, I think that's everything. Remember, if you ever want to message me or email me about any of my work or blogs, you can contact me at info@voxthebook.com. I check it every day and will usually answer you before the end of the day.
Until next time!
~KSilva