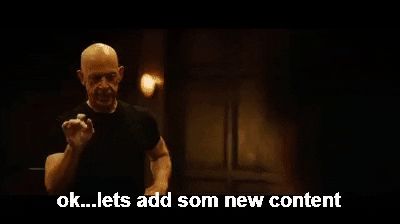 We're changing things up a bit here at The *all new* Kat at Night blog. Along with re-branding comes serving new content for the masses. I've decided on a few different blog series to incorporate into The Kat at Night that might be some fun for both me and you. I also have a new book coming out in the fall which we'll talk about a little bit, as well as some upcoming events you can find me at in the spring!
But now, a moment to speak about old series posts here. I will not be continuing Inspiration Through Music, though I would like to incorporate a music-themed blog here on the site. Cooking Adventures will be getting a bit of a make-over in that I will be returning to blogging my adventures versus vlogging them. My video equipment is unfortunately outdated and unable to make a video in a timely fashion. The last Cooking Adventure video I made took me nearly a week to edit because of corrupting video files. Suffice to say, I will try to provide plenty of photos to illustrate the future adventures well.
Now, onto new blog series!
Sunny Spot: Sunny Spots will be highlighting particular books, films, video games or other media in the world of "dark fiction" that I've enjoyed. They may come in the form of reviews or rants but they will always be good.
Late Night Tails: Late Night Tails are *hopefully* going to be an anthology of flash fiction stories in dark fiction. These might be few and far between to start but I'm hoping once summer begins to have a little more frequency to them.
On the Air: I have hopes to start a podcast on this channel and with that podcast, feature the occasional guest. On the Air might also take the form of vlogs (videos taken at literary events throughout the year). Interviews with other authors will probably also feature here.
Also continuing on will be an old favorite Horror Fail Friday in which I recount stories I wrote as a kid that make little to no sense now.
These concepts will hopefully (again) take a life of their own in the coming months. If I see that one series isn't performing as I'd like, I might scrap it in favor of something new.
Onto the juicy stuff…. I have a new book dropping this fall!
The Wild Dark has been a project I've been working on since 2013. I'm currently working on edits, but have already created the cover (which I'll reveal later this month!), and have finalized the soundtrack (which I'll be posting to my website in April). Here is the unofficial synopsis:
Ghosts have overtaken the earth, released from Limbo by inexplicable means. Monstrous wolves, guardians of the purgatory realm, roam the woods in search of their spectral quarry, determined to drag them back. Meanwhile, Limbo begins to engulf the world, snow covered lands slowly becoming encroached by eerie forests and tangled unearthly architecture. THE WILD DARK follows the story of Elizabeth Raleigh, ex-police officer, as she tries to overcome the grief of losing her best friend and partner amidst the coming of the apocalypse. Suddenly faced with his ghost, Liz must overcome guilt, desolation, and fellow survivors during one of New England's most brutal winters.
To be honest, when I was writing this synopsis, I hadn't really incorporated any celestial or demonic things into The Wild Dark. There is certainly talk of Limbo and of that being a plain where ghosts that can't move on linger. It isn't exactly the Christian Limbo (being a place where souls that have died with original sin go without being assigned to Hell). Limbo is technically on the borders of Hell, and I did pay homage to this by having some of the original architecture of The Wild Dark's Limbo be frightening and twisted. This was inspired by the work of Polish painter, Zdzisław Beksiński.
While there is still much work to be done on the book, I will be marketing the hell out of it at a few upcoming events. On March 27th, I'll be attending the 2020 Author's Night at the Vineyards at Zorvino Vineyards in Sandown, NH and at the end of April, I'll be pushing my wares at Bangor Toy and Comic Con!
For Bangor, I'll have plenty of copies of The Collection to go around as well as some fun giveaways and prizes that can be won. Stay tuned for more on that as we get closer to the event.
As several of you know, I have also posted about starting my own creative writing consultation business called Dark Taiga. I will be having my first creative writing workshop at the Lithgow Public Library in Augusta April 6th wherein participants can bring any material they need help on. Looking forward to inspiring and helping out others in Maine's robust writing community!
Well, I suppose that about does it for the updates. Stay tuned for new content and more news with The Kat at Night.
~KSilva